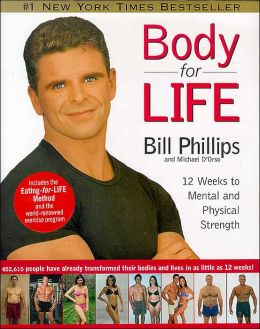 Who is Bill Phillips? He is the author of the bestselling book Body for Life. From this success comes a lifestyle-based diet philosophy "Eating for Life." Its foundation is to shift the mindset of people who are going through some kind of a diet program who stay away from food.
Eating for Life holds the conviction that one should not do away with what is necessary. Food is very important in the corporeal aspect of a person. Instead of looking at food like a mighty foe or running away from it like some contagious virus, food must be treated as a friend.
Bill Phillips encourages a fun adventure of eating often. He recommends eating at least six small balanced meals per day. He recommends further to take in a balance portion of carbohydrates with other foods within the meals.
This lifestyle-based diet program is inclined to take care of the body when it is hungry rather than torment it in starvation.
Eating for Life points one to a re-orientation of health values and patterns. It does not provide a short-cut to looking fit and fabulous. It works for a discipline which can have results in the long-term.
Benefits
• It addresses the physical, the orientation and the values of the individual
• It is a laid-back kind of diet plan. It is not too rigid.
• It is accessible by anyone.
• No deprivation of food. No starvation.
• Long-term results.
Challenge
• Need for strong self-discipline
• Support system is necessary for a self-regulated program to persist and endure for some people.
Food and Recipe
Eating for Life promotes a low in fat diet with a distribution of 40%-50% protein and 40%-50% carbohydrates. As was mentioned, six small meals a day may be observed. One day is given to oneself to eat anything they want without feeling guilty afterwards.
The book showcases more than 200 healthy recipes, with images on quality-stock color plates, and utilize commonly-found ingredients, discussed in a concise and uncomplicated way.
Exercise
Cardiovascular exercises and training may be opted at least three times a week. This is to develop muscle mass and increase body's way of burning fat fast.
A balanced-diet in six small meals and regular exercise are amongst its lifestyle orientation checklist.
Finally,
Eating for Life does not just address the physical needs of the body but a re-orientation of what one has always known to be what should be. It is a straight forward and helpful advice book for weight loss, energy gain and improved lifestyle through healthy diet and exercise habits.
Tags:
Best Weight loss
,
diet
,
diet plan
,
dieting
,
Weight Loss
,
Weight loss Success Stories